WE PROVIDE A TOTAL SOLUTION FOR
PEACE OF MIND AND MINIMING STRESS!
.

There are many changes that must be made in our 'Golden' years that require expertise regarding the laws, benefits and options available. You need a team of professionals that specialize in this area.




.

Counseling clients age 50+ requires special knowledge and expertise to safely guide you through the major financial and lifestyle transitions involved in relocating, refinancing or selling the family home.

.
We are dedicated to providing our Senior community with solutions to minimize stress that contribute to peace of mind. We are advocates with a fiduciary responsibility to always putting our clients first!
..
If you're an empty nester looking to downsize, newly retired, moving locally or across the nation, our 'Local & National' network will assist you with the care and peace of mind you deserve. We are here to answer your question and provide you with solutions.
.
SOLUTIONS TO TRANSITION YOU INTO A NEW LIFESTYLE
First, Find A Senior Real Estate Specialist as Your Advocate
.
When changing your home and lifestyle, you'll want a REALTOR® with the
Seniors Real Estate Specialist
(SRES) designation by your side. They will consult with you to review your current housing situation and outline the topics to weigh and consider your next move. Your SRES® is specially qualified to address the real estate needs of adults ages 50+ and can empower you to make the best decisions for your future.
.
.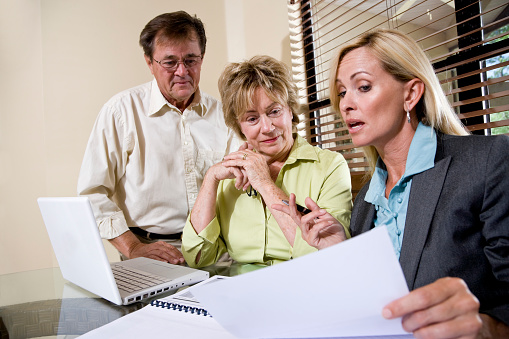 Reviewing Your Current Situation?
.
Nearly everyone wishes to age in place as they grow older. But often, the spacious family house becomes too burdensome, financially and physically, to maintain for individuals over 50.
They help sort out the complex decisions and what role your real estate investment plays in your overall financial picture. Those considerations include taxes, retirement savings, withdrawal schedules, long-term care needs, inheritance issues and others.
.
Senior Real Estate Specialists
understand managing capital gains and the tax implications of owning real estate. They can provide information that addresses a host of issues, such as the uses of pensions, 401K accounts, and IRAs in real estate transactions, and how Medicare, Medicaid, and Social Security affect real estate decisions for seniors.
.
HAVING MIXED EMOTIONS WHETHER TO STAY OR TO MOVE?

Changing your residence and lifestyle can be both exciting and daunting. There's almost always an emotional element associated with selling a long-time home. The excitement stems from anticipating new beginnings in a fresh environment. It can be stressful too because there are so many choices in types of senior residences, finite resources and sometimes emotional hurdles to overcome.
.
As experienced Realtors and

Senior Real Estate Specialist

,

we specialize in senior needs and are trained to help ease the transition first by discussing your reasons for selling. We explore all your options to help you arrive at the very best housing solution. We assess your current property, with modif

i

cations, or suggest changing your residence to a better overall solution.
.
.
DETERMINING YOUR NEXT STEP?
Once a plan is in place, your
Senior Real Estate Specialist
will provide pertinent information on 50+ housing trends, financing and market conditions. They also have a team of experts and advisors to help you with every step while you're exploring your options and determining the very best place to call home.
A good place to start is getting an answer to the question:
What Is My Home Worth?
. ..

Where To Go Next After You Sell Your Home?
No longer is a retirement community just a neighborhood for seniors in Texas. Today, specialized communities covering every stage of senior living and every lifestyle have sprouted across North Texas.
.
Senior communities
have different levels of amenities such as fitness clubs and medical facilities. And within each of these broader communities, there are sub-categories, catering specifically to lifestyles such as resort and golf communities.
.
.
Moving Is Easier With a Senior Real Estate Specialist
As

Senior Real Estate Specialists

,

we have assembled a proven team of professionals in a number of important areas. We can handle the heavy lifting by bringing in contractors for a fresh coat of paint or renovations, professional movers, landscapers and Geni will personally stage your home to make it look amazing. We can also handle the heavy paperwork with Elder Care Attorneys and Senior Tax Accountants, 1031 Exchange Specialists, and

Reverse Mortgage

Specialists to ease the transition to a new lifestyle.

..

.

FIVE STAR REVIEWS

.

"Geni really cares about her clients! Her team is sensitive and educated and work with her and their clients every step of the way. Her Senior Buy-Out Program is especially powerful and effective."
–

Lisa Harvell, Escrow Officer

* * * * *
"Losing my last parent, and being faced with losing my Mom's home, (that my grandfather built in 1949) was a difficult time for my family–Very sentimental with happy memories for 5 generations. Geni Manning has been a very important part of our family since childhood. When we told her about the state wanting restitution through Medicare for medical purposes in the amount of $73,445. Geni immediately jumped in and took over.
Working with Geni is like watching an angel at work. She knew exactly what we needed to do and how to start. With love and compassion, she walked us through the steps and even staged our happy little home. Within two days we were blown away at the response we received and multiple offers. Geni worked hard negotiating the best price making this experience as smooth and comforting as possible. Our home sold for much more than we could imagine! We are forever blessed with our special agent, friend, and to me an angel sent to be in our lives. Geni Manning is a hardworking, passionate, and caring individual who will make your story of selling or buying a true blessing. Geni restored my belief in honest human nature."
-

The Eller, Rudzewicz Family – Arlington Homeowner

* * * * *
.
Click Here For More Information About Our

.

.
BABY BOOMER & SENIOR SOLUTIONS
A Real Estate Guide To A STRESS-FREE Life
Once your kids move out of the house, you might find yourself with an overabundance of unused space. While letting go of the house you've called home for so long might not be easy, it just might be the right decision — both financially and practically for your future. Whether you, or your senior parent, choose to move to a smaller single-family home or to a senior living community, the opportunities (and cost savings) are endless.
..
OTHER SENIOR PAGES
Are you or a loved one ready to talk about a lifestyle change?
Get the specialized attention you deserve from a SRES®.
Call Geni Manning at 469-556-1185.