THINKING OF SELLING?
.
Selling a home in any market can be incredibly challenging and frustrating for home sellers because your lifestyle is being disrupted. But we are here to take as much stress off your plate as we can.
.
Why Sell?
Why do you want to sell your property? Do you intend to simply find a larger property, or do you plan on moving to another neighborhood, school district, city or state? You might think your reasons are obvious, but it would do well to consider the implications of each option for your lifestyle, opportunities, and finances. Being clear about your intentions for selling will make it easier for us to determine the most appropriate option for your specified financial, lifestyle, and real estate goals.
.
When Should I Sell?
You should immediately establish your time frame for selling. If you need to sell quickly, we can speed up the process by giving you a complete market analysis and action plan to obtain all of your goals. If there is no pressing need to sell immediately, you can sit down with
Geni Manning
to thoroughly review the current market conditions and find the most favorable time to sell.
.
What Is The Market Like?
When you work with us, you can be sure that you will have our

knowledge, expertise and negotiating skills

at work for you to arrive at the best market prices and terms. We will keep you up-to-date on what is happening in the marketplace and the price, financing, terms and conditions of competing properties. With us, you will know exactly how to price and when to sell your property.
.
At the Geni Manning Real Estate Group, we understand that not every home or seller situation is a right fit for a traditional listing. That is why we created our
Private Sale Option
.


.
,
A New Way To Sell Your Home
Our Private Sale Option
provides you with the convenience, transparency and certainty you deserve when it comes to selling your home! It allows you to sell your home without the prep work or hassles of a traditional listing, the uncertainty of buyer's appraisals or inspections, and the best part is – it doesn't cost you a cent. There are no commissions or closing costs paid by the seller!
.
Sound too good to be true?
Let us show you a better way to sell your home!
.
How Do I Optimize My Finances?
Deciding to sell your property demands a serious consideration of your current financial situation and future possibilities. With the help of our
expert agents and mortgage loan officers
, and the rest of
team you will be able to effectively assess the cumulative impact of these changes, estimate potential proceeds of selling your property, and plan effective tax savings and estate planning strategies. We will ensure that you not only take control of your finances, but use them to their fullest potential.

Discover The Formula That Wealthy Home Sellers Use To Sell Homes Fast For More Money!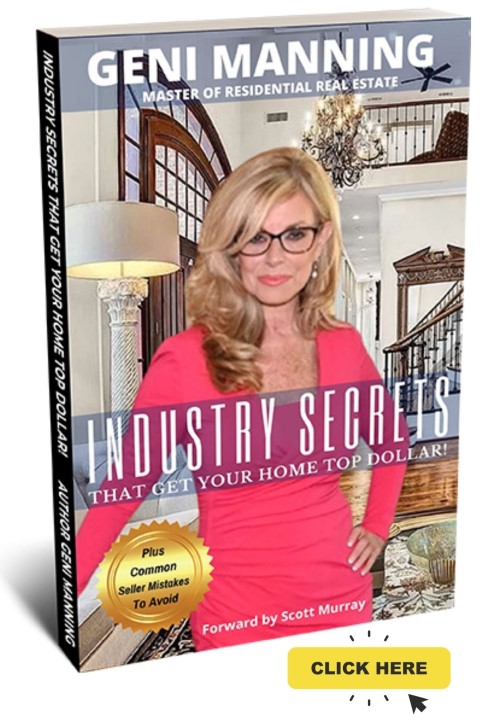 I
ndustry Secrets

That Get Your Home Top Dollar!
Are you trying to sell your home and confused about the shifting market? Tired of dealing with the complex issues that arise through a real estate transaction? We understand dealing with low appraisals and all the repairs a buyer demands from an inspection can be frustrating! Getting a lower offer than you expected is disappointing. Regardless of the reason you are selling; relocating, downsizing, moving up, divorce, probate, forbearance, pre-foreclosure, short sale or bankruptcy, this book is for you!

.

.
Home Didn't Sell?

Have you had your home on the market but for some reason it did not sell? There are many reasons why this could have happened but in 4 decades of experience as a Realtor in the DFW metroplex Geni explains the

Top 3 Reasons Why A Home Does Not Sell.
Geni's Reputation is Unparalled
but she would rather you see what her clients have to say about her real estate expertise and ability. Here are some of the
100+ 5 Star Reviews - Real People. Real Stories
by Geni's clients.
.
OTHER SELLER PAGES: