THINKING OF SELLING?
.
We're experts in selling Dallas/Fort Worth residential real estate. Since 1982, Geni has been a Top Producer and consistently displays her service-oriented attitude! Through her powerful marketing system and negotiating skills, Geni has a proven track record of selling homes for top dollar in record time–even in down markets! She has a reputation for taking homes that couldn't sell with other Realtors and getting the job done. Not only will we bring an excellent knowledge of pricing and market determiners, but we have a proven marketing plan that generates exposure to your home both online and off.
Selling a home in any market can be incredibly challenging and frustrating for home sellers because your lifestyle is being disrupted. But we are here to take as much stress off your plate as we can. Many sellers have noted that Geni is a true professional, full of energy and enthusiasm with a keen understanding of today's highly competitive market. Her outstanding achievements can be attributed to two simple facts: Geni cares and thrives on helping her clients achieve their goals, and she doesn't mind working hard to accomplish them. Combine that with her high standards of excellence and ethics, and you can be certain that you will be treated fairly and professionally.
If at any time during your reading you have questions or something becomes unclear PLEASE use the "Contact Us" button to connect via email or simply pick up the phone and call. Selling a home is not a journey that anyone should go on alone.
SELLING PROCESS
PRICING
The home selling process starts with pricing. Clearly, there are many automated websites that will give you a quote as to your home's value. If you'd rather get the right number, we will prepare a detailed analysis of recent neighborhood sales, competition and current market conditions to determine the ideal list price to maximize your sale price.
PREPARING
The next step in the home selling process is to position your home to shine above the rest. We help you judge the best time to sell your home. After that's decided, we help you put your home's "best foot forward" to impress buyers. Little things matter; things like making minor repairs, thoroughly cleaning the home, and professional staging. We'll help you by reviewing your home and offering tips on the best home improvements that add value to your home. Don't worry, we'll also tell you what you don't have to do!
MARKETING
The home selling process is, as you might expect, is all about marketing. Nearly all home buyers are searching online so of course, excellent internet marketing in all forms is critical. With thousands of choices, the way to get noticed is to professionally present your home when and where buyers want to see it.
SHOWING
We make it super easy for people to see your home and make your home shine every day it's on the market. These things really do make a difference. We know you're busy and we will help you make it happen. Arrangements for showings will be made in the manner you prefer, text, email or telephone…you tell us!
NEGOTIATING
A critical step in the home selling process is negotiation. We are skilled experts in negotiation and have honed these skills over years of transactions and decades of experience in the real estate industry--plus we are '
Certified Negotiation Experts
'!
TRUSTING
"Really, the home selling process begins with trust. Like our many happy clients have in the past, you can trust we will always put your interests first. One of the advantages of being a boutique brokerage is we are a small group and that enables us to know one another well and learn from each other. We only hire Realtors we know and trust."
MARKETING PLAN


HOME PREP & STAGING
We custom tailor property marketing strategies to target where buyers are looking for your type of home--both online and in person. However, every marketing plan begins with home prep and staging. Geni Manning will give you professional advice on how to make your home show its best. Often this includes a to-do list made up of minor home repair tasks and deep cleaning, that combined will translate into selling your home for top dollar. With repairs and staging complete, we're ready for the photoshoot!
PROFESSIONAL PHOTOGRAPHY
Depending on your home's amenities, size and acreage will determine what is needed. Most properties will be professionally photographed using the latest digital photography equipment, drone videos, virtual tours, virtual staging, and interactive floor plan technology. With Geni present during the photo shoot, our photographer knows just how to stage and light your home's rooms to make them look really great online providing potential buyers with a meaningful, emotional, way to visualize your home as if they are there. Many times furniture needs to be adjusted or home decor needs to be moved to another room for best photos--Geni helps with this extra little step that makes the photos amazing!
MARKETING TO BUYERS
Our marketing is directed to two audiences: Buyers and their Brokers. With approximately 98% of home buyers searching online it is critical to have a website that is well-positioned and to utilize all channels of digital marketing including social media. We are always innovating and moving ahead with the latest technology to better connect your home to the right buyer. We make sure your home is found by buyers where they look and when they look.
Professional photography, drone videos, virtual tours, and interactive floor plans
The latest digital marketing technology so your home is easily found online
90+ real estate websites including Zillow/ Trulia and Realtor.com®
The maximum number of photos per site – homes with multiple photos are viewed 299% more often
Postings on social media sites - 8 Facebook pages, LinkedIn, Pinterest, Twitter, YouTube, Google+ and shared by team members for additional postings
Home Brochures and flyers eloquently written by Geni will describe your home and highlight your home's best features for high impact.
MLS will feature the maximum photos, virtual tour, drone video, eloquent description, open houses, amenities of the house and community, survey, and any other documentation that shows a benefit to a buyer choosing your home
Open Houses as permitted – Posted publicly on Zillow, Trulia, Realtor.com, to Realtors in MLS, and with
invitations sent to neighborhood
Distinctive high-quality signage, where permitted
MARKETING TO BUYER BROKERS
Impressing DFW buyer brokers is an important component of our marketing plan for your home. Buyer brokers rely on their network of broker colleagues and MLS. This is another reason you want to list with us; we've got over three decades of local experience and know the buyer brokers in our areas:
We generate enthusiasm for your home within the buyer broker community
We cut through the clutter and show buyer brokers why your home is special
We do this by using a creative solution like hosting a buyer broker event at your property and reaching out to our network of top DFW buyer agents with email blasts exposing them to your listing.
And, of course, via DFW's Multiple Listing Service
HOW ABOUT SOCIAL MEDIA?
Yes, it works and is powerful. We've been successfully engaging buyers across the nation on social media since 2009 and have closed man transactions based on a buyer seeing a post, tweet, or pin featuring their dream home.
KEEPING YOU INFORMED
It's great that we do all this but what's just as critical is that we give you progress reports every step of the way. You choose what update method you like best, phone, text, or email. We'll let you know how it's going and provide stats from your virtual tour, MLS, and various website channels. We will give you access to all showing reports and instant feedback from all your buyers coming through your home.
Whether your home is in

Plano, Frisco, McKinney, Allen, or Prosper--in fact, anywhere in the Dallas/Fort Worth metroplex, our strategic marketing plan will work for your home. Ask about our exclusive

'secret sauce.'
FIVE STAR REVIEW
"I can't say enough how grateful I am to work with Geni. She is beyond expectation. Geni was like my best friend trying to help me sell my house. She is very easy to reach and fast responding. I never felt pressure to make a decision but got very honest opinion and expert advice. Doesn't matter how small or big the project is, she was always there and helped me with her wonderful team. I won't work with anyone else but her. Surely, I recommend her to whoever is looking for a house or selling it. I worked with other good real estate agents in the past and in my opinion, Geni is the best of the best and whoever has her as a real estate agent is blessed."
– Sheila Ghahremani – Homeowner in Frisco, TX * * * * *
.
Discover The Formula That Wealthy Home Sellers Use To
Sell Homes Fast For More Money!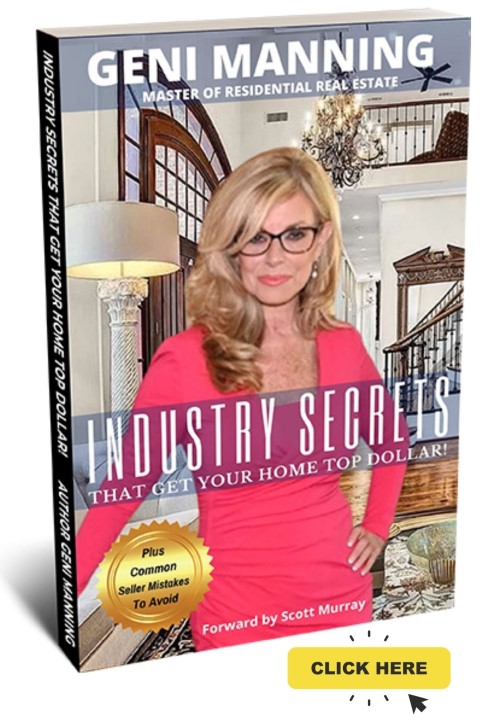 Industry Secrets
That Get Your Home Top Dollar!

Are you trying to sell your home and confused about the shifting market? Tired of dealing with the complex issues that arise through a real estate transaction? I understand dealing with low appraisals and all the repairs a buyer demands from an inspection can be frustrating! Getting a lower offer than you expected is disappointing. Regardless of the reason you are selling; relocating, downsizing, moving up, divorce, probate, forbearance, pre-foreclosure, short sale or bankruptcy, this book is for you!

.
.
Haven't Spent a Lifetime in Dallas? Choose the Realtor Who Has.