FINDING A NEW HOME BUILDER AND LOT
Dallas/Ft. Worth has an amazing array of NEW neighborhoods to build in. From condos to luxury estates and everything in between–you have tons of choices. North Texas is home to some of the best award-winning builders in not only our great State, but the Nation. You will find a wealth of New Home Builders in Dallas/Ft. Worth and the many suburban markets.
Fill free to search for your NEW Home Builder here. Whether you want a custom home, a home built by a national home builder or you want to build on your own lot, we can help. Our New Home Specialist will you sort through the builders, neighborhoods, and design choices to make buying or building a home less stressful. Just fill out the form with your criteria here on this page or call us at 469-556-1185.
Happy Hunting–CHEERS!
ALL OUR BUYER SERVICES ARE FREE!
If you are looking for a new home, or to build in the DFW Metroplex, you have tons of choices. North Texas is home to some of the best award-winning builders in not only our great State, but the Nation. The Geni Manning Team will you sort through the builders, neighborhoods, and design choices to make buying or building a home less stressful.
Custom Home Builders

The Custom Home Builders we work with are like couture fashion designers. We can match you with a home builder with superb customer service, innovative designs, quality craftsmanship with high end finishes that meet your needs.
Each will design a one-of-a-kind masterpiece that feels like home to you, capturing its own unique look and character. They will create not only a home, but a conversation piece.
National Home Builders
We are home to some of the most sought after and acclaimed cities in the nation. Because more people are relocating to the DFW area, and home sales soar in North Texas, some of the most sought after National Home Builders have also

found their way here. They provide the most popular locations and communities to settle in, and offer a variety of designs from first time homebuyers to the executive lifestyle. They feature design trends from expert sources that will likely land on the list of "must haves" for your new home.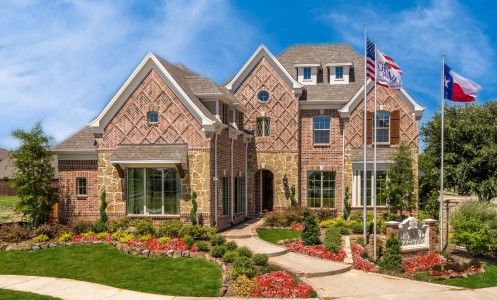 Many builder's names are synonymous with craftsmanship, and innovative architectural design. To top it off, they have brought energy efficient
construction to the market at reasonable prices. Bottom line, they have created extraordinary, affordable homes and experiences for our clients.
BUILD ON YOUR OWN LOT BUILDERS
There are several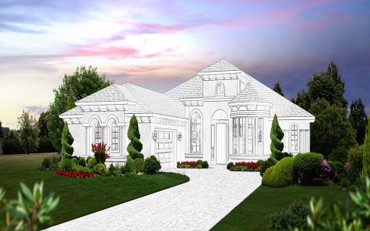 great Build On Your Lot builders with reputations for reliability, quality, value and flexibility. If you have the perfect piece of land, there are builders that will build a beautiful home on it with your floor plan or theirs-spacious designs and traditional comfort best suited for your preferred home site.
Finding a lot or land to build can be challenging in this booming market. Our team of New Home Specialist can assist you with finding the vacant property, negotiating the contract, arranging a new home construction loan and coordinate a one-time closing scenario.
GENI MANNING – CERTIFIED NEW HOME SPECIALIST, FORMER BUILDER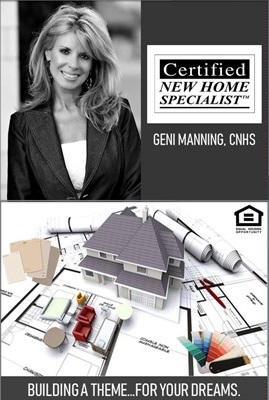 Geni manning's love for architecture and design led her to start a home building business in Colleyville, Texas in 1980. Drawing her own innovative floor plans, staying abreast of the latest trends and features that homebuyers and homeowners are looking for proved to be a success.
In 1982 Geni received her real estate license…and the rest is history.
Geni is a native Texan, and grew up in the Dallas/ft. Worth metroplex. Her knowledge of the entire area, along with her as a builder gives her an advantage when working with families relocating to north Texas. Geni and her team of new home specialists are highly regarded by local builders and their sales force.
"Our goal is to assist our clients with not only finding the right builder and homesite, but helping select a floor plan that fits their lifestyle. We will assist in choosing decorator selections, to scheduling and attending builder meetings and inspections."
Our team of new home specialist will help you find any type of builder throughout north Texas. From Midlothian, Mansfield, and Burleson on the southern end of the metroplex, to Celina, prosper, McKinney, Frisco and beyond on the north side. From Weatherford and Azle on the west side of ft. Worth, to Forney, heath, Rockwall and Royse city to the east of Dallas.
THINKING OF BUILDING YOUR DREAM HOME? CALL 469-556-1185
" As a builder of $1,000,000+ homes, our customers are highly sophisticated, knowledgeable, and expeect a lot from us and the product we provide. Geni, you have exceeded the kind of service they expect and deserve, and we are proud to have you represent us. We highly recommend you, and want to thank you for your professionalism and all that you have done for us. We look forward to doing more business with you in the future!"
- Tom Bolen, Vice-President, Cresswell Well Custom Builders * * * * *
"I have worked with Geni Manning in real estate for the past two years and let me say that if I was selling my home or looking to buy one, I would use Geni Manning. No one works harder or is more knowledgeable, and has more integrity then Geni. Don't waste your time looking for someone else to get the job done. Geni is especially patient and compassionate towards her elderly clientele. She brings a unique one stop shopping technique to real estate where she will cover all your buying, selling and investment needs.
Geni has over three decades of experience that makes her an expert in her field. From her custom home search to finding you the right lender. Setting up your inspection, and appraisal. Staging your property including your walk through down to your closing. Geni will be with you every step of the way. If you want the best, you got the best, and that's Geni Manning."
- Andy Corridori, New Home Specialist at Grand Homes * * * * *