Are You Facing Foreclosure?
First, I want to say, don't feel bad if you are in a situation where you have been served with foreclosure papers. There are many people who have unfortunately had foreclosures for many different reasons (even unfortunate medical issues), but that does not make them a bad person.
I know it's heartbreaking to think you are losing your home that you made so many memories in and to think you are losing your hard-earned money in your equity is disturbing. Before, you read on, as a
Certified Foreclosure and Short Sale Expert
, I want to assure you that there is hope for a better ending than letting your home be foreclosed. One way is through a
Short Sale,
which I will cover later.

Many people often ask, Should I just let the Lender foreclose on me, file bankruptcy or is a
Short Sale
a better option?
A foreclosure is legal action by a mortgage lender to take control of a property that is in default. Borrowers facing foreclosure are often uncertain what their legal rights are and the long-term consequences of foreclosure.
Most borrowers that are facing financial difficulties are unaware that lenders are often willing to work with them. Lenders do not want your home—they are not in the real estate business! Many lenders will offer solutions like loan modifications to restructure the loan, deed in lieu of foreclosure or even a

Short Sale

, depending on the circumstances. The very worst thing a borrower facing foreclosure can do is ignore their lender.
Common Questions About Foreclosures
1. What Happens in a Foreclosure?
In a foreclosure the mortgage lender takes possession of the property, most often against the homeowner's desires. The typical mortgage agreement states that if payments on your loan stop, the lender can reclaim the property through foreclosure (non-judicial foreclosure) or by filing a lawsuit (judicial foreclosure).
2. When Does The Foreclosure Process Begin?
Borrowers that get behind on their mortgage usually go through a series of steps before the lender foreclosures. Foreclosure is the result of breaking your repayment agreement with your lender and failing to make alternative arrangements for repayment, such as a loan modification.
The repayment agreements are outlined in the promissory note you signed at closing, as part of your mortgage commitment. These agreements may differ by lender and jurisdiction. So be sure to refer to your agreement for rules that govern your mortgage.
The Foreclosure Timeline


The initial process is typically the same among banks, beginning with your first late monthly mortgage payment. Here's the general timeline:
First missed payment. The first step is a missed payment. Lenders often offer grace periods of up to 15 days to pay your mortgage after the due date; if you don't make your payment within the grace period, you could be charged a late fee and some lenders might report your late payment to the credit bureaus.

Default. If you continue to miss mortgage payments, you're considered in default. Some lenders will consider you in default after 30 days of non-payment, while others have a 15-day non-payment limit. The actual rules depend on your lender, what is in your loan agreement / promissory note and whether you have a judicial or non-judicial foreclosure. Many lenders have separate departments that handle foreclosures or short sales.
Foreclosure lawsuit or notice of default. For a judicial foreclosure, your lender will file a foreclosure lawsuit. If you don't respond, the judge will likely grant the lender a default judgment. If you do respond, the case could go to trial, or the judge could file a motion of summary judgment which is a decision by the judge that there the material facts surrounding the foreclosure are not in dispute. You do NOT want this! This 'judgment' can stay in effect for 10 years and it may be renewed indefinitely. Don't confuse this with a 'foreclosure' on your credit report, that lasts 7 years--I talk about this later.
In a non-judicial foreclosure, the lender issues a Notice of Default (NOD) via certified mail, which is also recorded with the county clerk. This tells you how much you owe, including past due amounts, late fees and foreclosure costs. Once you receive the NOD, you typically have 90 days to repay what you owe or work with your lender to come up with a repayment agreement.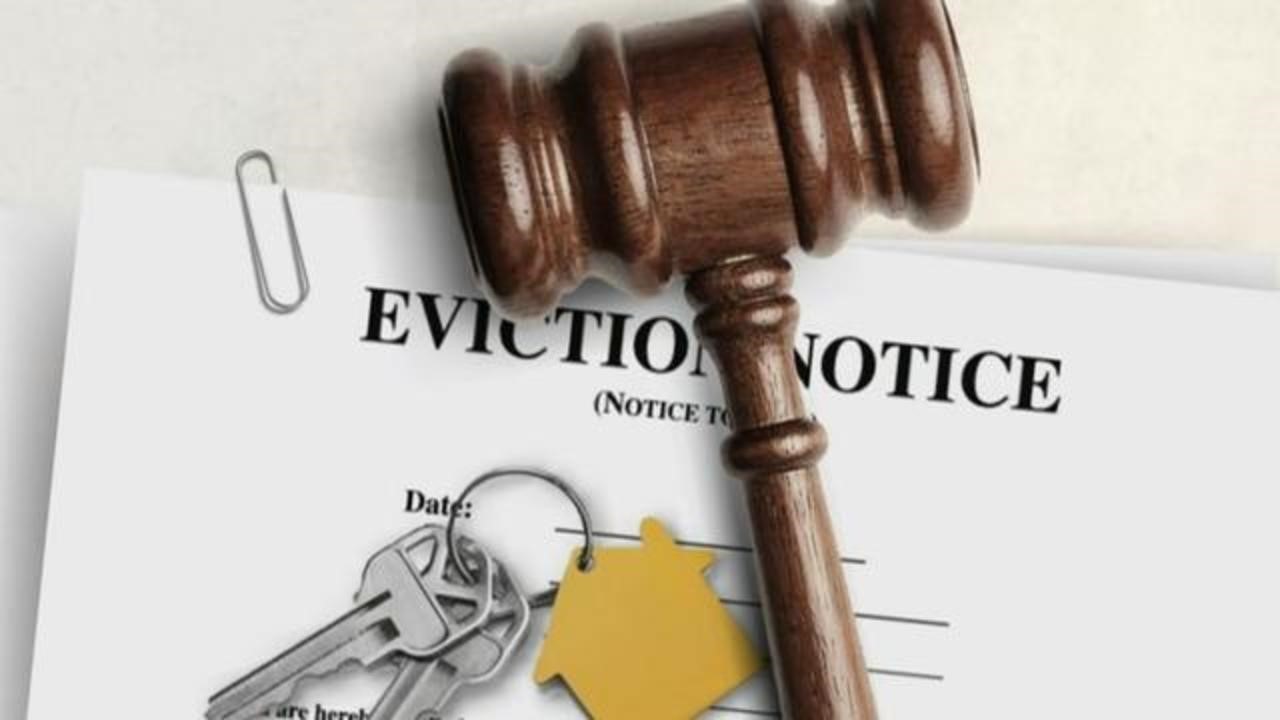 Pre-foreclosure. Between the Notice of default and sale of the home, the borrower can pay what's owed to stop the foreclosure process. As the borrower, you still legally own the home, so there's time to save yourself from eviction. Even contacting your lender could help you stop the foreclosure process, especially if they determine you're eligible for a special payment or relief plan.

Notice of sale. If you don't pay what's owed or make arrangements within the notice of default period, the lender will issue a notice of sale or auction. This notice must be published publicly and will likely be posted on your front door as well. The lender will then prepare to put the home up for auction, which includes setting a date and time for the sale.

Leave residence. Once the lender sells the property, you'll have to move out. The time you must vacate the property differs based on your state's laws. You might have some time after the sale date to live in the home, but that timeframe varies by state. It could be a few days or a few weeks. If you remain on the premises beyond your legal rights, the homeowner or lender will start a formal eviction process.
.
3. Will I Owe Money if My House Sells for Less than I Owe?
If your home sells for less than the balance owed, the lender can file something called a 'deficiency judgment.' This is a separate lawsuit that requests the borrower pay the remainder of the loan amount. As mentioned earlier, this 'judgment' can stay in effect for 10 years and it may be renewed indefinitely.
4. Do I Owe Property Taxes When My House Is in Foreclosure?
Legally, you're required to pay property taxes as long as you own the home. Sometimes, the lender pays the taxes in order to sell the home. If taxes become overdue, the government can seize the property, which would make it difficult or impossible for the lender to recoup what they're owed. Taxes are attached to homes—not people—so once the property is sold the taxes are the responsibility of the new owner.
5. Can the Foreclosure Process be Stopped?
Up until the time your house is scheduled for auction, there may still be a chance to halt the foreclosure process. The key is communicating with your lender or hiring a Certified Foreclosure and Short Sale Expert. The sooner you talk to either, the better. Many people feel intimidated by calling their lender and would rather avoid this uncomfortable situation by putting it off, but that can only hurt you in the long run.
It's not uncommon for people to face financial problems, and most lenders are sympathetic to that. They might ask you to provide proof of hardship or other financial information to help you work out a plan.
You should also watch out for scams that prey on desperate homeowners. Make sure anyone you talk to is calling from a number you can verify. Better yet, refer all calls to your Realtor.
.
6. How Does Foreclosure Hurt My Credit Score?
A foreclosure is a severely negative credit event, knocking off 100 points or more from your credit score, according to FICO. Additionally, it stays on your credit report for seven years. This negative credit score can prevent you from buying another home, even if you can otherwise qualify. Landlords also use credit scores as one of the criteria to help them choose a good renter.
Again, Stay Hopeful and Read About a BETTER Option With a Short Sale.


Not all Agents are equal in knowledge. Choose an experienced agent who can get the job done! Our services are FREE to you and you will be working with Geni Manning, SFR (Certified Foreclosure and Short Sale Specialist)…we even have experience with the Equator system which most lenders require. See all of Geni's Credentials and Certifications!
Where Do I Turn?
A Compassionate Guide To Avoiding Foreclosure
In this book, you'll learn about both the Short Sale and Foreclosure processes so you can be prepared every step of the way to improve your financial outlook for the future. If you act early in the process, you have a real possibility to sell your home before the bank takes it back. I've provided an effective guide for you to have the most successful real estate transaction and opportunity to make a profit! Claim your free book.

..



Do You Need To Stop A Foreclosure?
Or Need To Find Out If You Qualify For A
Short Sale
?
Call 469-556-1185