There is nothing more relaxing and serene than spending time on a golf course with its unparalleled views of nature. No wonder Arnold Palmer said,

"Life is better when you're golfing."
Whether playing golf with it's beautiful greens and magnificent fairways or enjoying the serene views from your home's backyard -- nothing beats it. If you're searching for a home in a golf course community with world-class amenities look no further. As you can see from the

map below, we have private golf and country clubs everywhere—not to mention all the public courses you may want to play.
We have highlighted some of the most sought-after golf course communities in Collin, Dallas, and Denton Counties, where you can learn more--even schedule a tee time.
We have highlighted the

communities

that surround each of these great golf courses and you will find homes

FOR SALE

at the bottom of this page.
Allow us to recommend the community that best suits you and/or your family. Call 469-556-1185.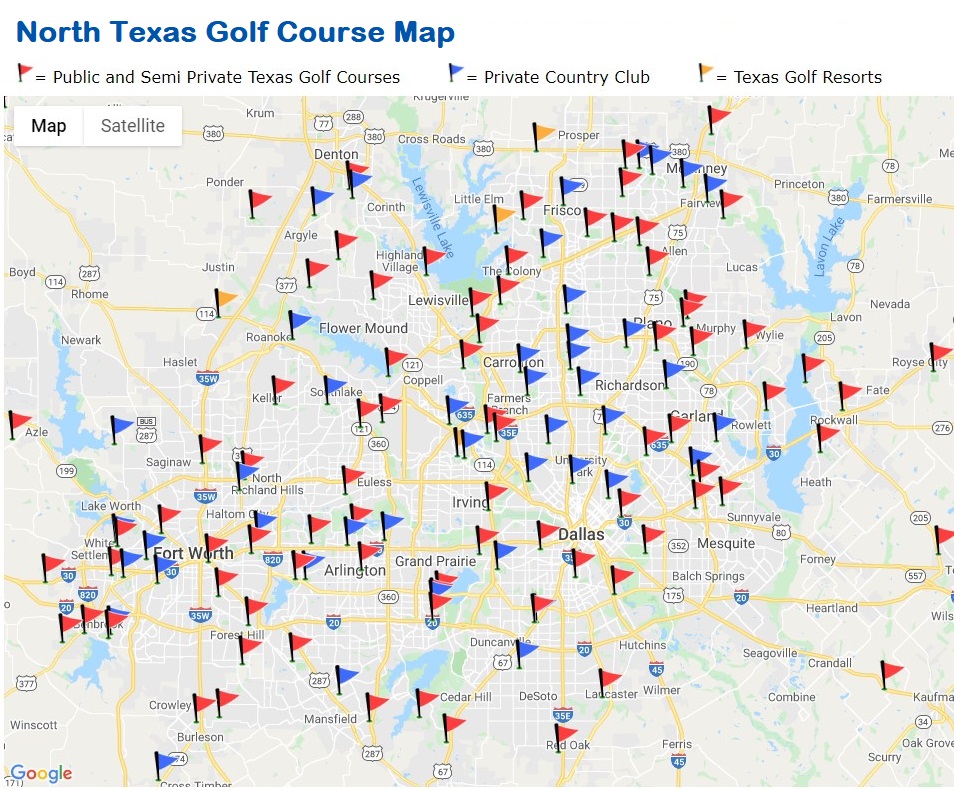 Golf Courses in D/FW
GOLF COURSES
PUBLIC / PRIVATE
COUNTY
DESCRIPTION
ALLEN:
TWIN CREEKS
Public
Collin
Designed by Arnold Palmer this public course is set around two beautiful, tree-lined creeks.. The course is located in West Allen, minutes from I-75.
ARGYLE:
LANTANA
Private
Denton
As one of the premier private golf clubs in the Dallas/Fort Worth area, golfers of all levels will enjoy the challenge of Lantana's 18-hole championship course that was home to the PGA Q-School for 14 years. Designed by the world renowned team of Jay and Carter Morrish. A private club since 2009 it offers casual dining in a dramatic setting.
CARROLLTON:
CASTLE HILLS
Private
Denton
The Lakes at Castle Hills provides a wide variety of amenities in addition to golf such as tennis, swimming, fitness and wellness and both indoor and outdoor dining. Enjoy 18 holes of championship golf nestled in one of the fastest growing golf communities just north of Dallas. Recognized by Golf Digest as one of the Top 100 Best Courses in Texas.
COYOTE RIDGE
Public
Denton
Avid Golfer Top Luxury Course in DFW with a country club feel.

one of the largest, fully stocked Pro Shops of any clubhouse, Grill 19 Restaurant, and Bar where our culinary excellence speaks for itself, service that is second to none, luxury locker room facilities, along with a course that has gone through extensive major renovations in 2007 to become one of the best daily fee courses in the Dallas Metroplex.

INDIAN CREEK
Public
Denton
The creek and lakes courses provide 36-holes of Championship golf at Indian Creek Golf Club in Carrollton, TX. With 3 sets of tees each of the layouts are diverse and offer players of all abilities the option for recreational golf or a challenging test of skill.
MARIDOE
Private
Dallas
Maridoe boasts a par-72 course with five sets of tees
COPPELL:
RIVERCHASE
Public
Dallas
Riverchase Golf Club is one of the premier daily-fee courses in the Metro-Plex. We have been labeled as "one of the cities best kept secrets." Riverchase is a competitively priced 18-hole course featuring Champion Bermuda greens and is spread out on 6,593 yards.
CORINTH:
OAKMONT
Private
Denton
PGA Champion Don January served as course consultant in designing the course considered the best combination of natural beauty and challenging play in the area. 18-Hole Golf Course, family friendly facilities. A ClubCorp Family member.
DALLAS:
BEAR CREEK GOLF
Public
Dallas
Ted Robinson-designed championship layouts, array of amenities and superlative guest services have earned it's recognition by Golf Digest as one of the "Top 50 Resort Courses in America" and by the Wall Street Journal as one of the "10 Great Places To Play Golf."
BENT TREE
Private
Dallas
An 18-hole member-owned, championship private club has is known for it's rich history and luxury.
DALLAS ATHLETIC CLUB
Private
Dallas
From our two 18-Hole Jack Nicklaus Championship courses to year-round family activities and tennis programs, to the exceptional culinary cuisine and social events our members are provided with an unparalleled private club membership experience. Dallas Athletic Club offers access to many exciting amenities as well as social activities for the entire family throughout the year.
DALLAS GOLF COURSE
Private
Dallas
Part of the Dallas Country Club, the golf course is located in Highland Park on 117.5 acres with magnificent views of Turtle Creek and the Dallas skyline. Founded in 1896 the 18-hole is a member owned private course.
LAKEWOOD
Private
Dallas
One of the oldest private clubs & course in Dallas founded in 1912. Membership is by invitation only.
PRESTON TRAIL
Private
Dallas
What makes this one of the best golf courses in the state? Let's list the reasons: Location: Far north Dallas, with White Rock Creek meandering through. Layout: Stunning and traditional, with tree-lined fairways, the right amount of water and bunkering, and huge, lightning-fast bent-grass greens.
STEVENS PARK
Public
Dallas
Redesigned by Colligan Golf Design in 2011, Stevens Park is North Texas's premier public golf destination. This "rebirth of a classic" wanders through mature oaks and traverses dramatic elevation changes while providing fun but challenging play to golfers of all skill levels.
DENTON:
WILDHORSE
Public
Denton
Located in Robson Ranch and designed by renowned Texas golf architect Gary Stephenson, the 18-hole championship course features strategically placed bunkers and hazards that present an enjoyable challenge for novices as well as avid golfers.
FAIRVIEW:
HERITAGE RANCH
Public
Collin
Heritage Ranch Golf & Country Club features Metroplex public golf course designed by one of the nation's leading golf course architects, Arthur Hills, and a ranch inspired Clubhouse. Scenic surroundings and lush landscaping create an exceptional experience for our guests to enjoy a friendly round of golf, competitive tournament or host a special celebration.
FARMER'S BRANCH:
BROOKHAVEN
Private
Dallas
Named in "The Best of the Private Clubs" list for 2017 by Avid Golfer magazine Brookhaven was the first golf course design project for golf legend Byron Nelson, who worked with Press Maxwell on the greens in 1958, the Club is known for its relaxed and friendly environment.
FLOWER MOUND:
BRIDLEWOOD
Public
Denton
Considered one of the finest public golf courses in the area, Bridlewood Golf Club boasts "A Private Club experience at a Daily Fee Price". Measuring 7,111 yards from the championship tees, the course tempts golfers with 25 acres of lakes and the meandering Timber Creek.
TOUR 18
Public
Denton
An 18-hole public course that replicating individual holes from some of the greatest courses.
FRISCO:
FRISCO LAKES
Private
Collin
The Frisco Lakes Golf Club is a local favorite golf & dining location within the Frisco Lakes by Del Webb community and along the banks of Lake Lewisville. Rated one of the top luxury public golf clubs in the Dallas-Fort Worth area by the Avid Golfer for the last three consecutive years, the club features a beautiful 7099-yard, Par 72 championship course
PLANTATION GOLF CLUB
Public
Collin
Plantation Golf Club's beautiful 6,402-yard, par-72 championship golf course was designed by Richard Ellis to blend seamlessly with its beautiful natural surroundings in the rolling hills of Frisco, Texas, just 30 minutes from downtown Dallas.
STONEBRIAR
Private
Collin
Stonebriar is one of the finest private country clubs in Texas with two 18-hole courses plus eight outdoor tennis courts. The club has been instrumental in the development of the Frisco community and the new Dallas Cowboy Headquarters only minutes away. The Frisco community, only 20-30 minutes from downtown Dallas, provides a surrounding of serenity.
THE TRAILS OF FRISCO
Public
Collin
The Trails of Frisco is one of the premier public 18-hole golf courses that features beautiful . The course features rolling greens and a par 71 layout to challenge players of all handicaps.
GARLAND:
DUCK CREEK
Public
Dallas
Players will enjoy the majestic mature trees, scenic views of Duck Creek and a great layout designed by Michael Hurdzan. Duck Creek is open for daily fee play and also offers annual golf memberships and our popular Player Development Program, just like a health club for your golf game.
FIREWHEEL
Public
Dallas
Firewheel has 3 courses and hosts prestigious tournaments as the PGA Tour Qualifying. The United States Open qualifier, the United States Amateur qualifier and the Byron Nelson Qualifier. The Bridges, Old and Lakes Course at Firewheel have received top rankings in Avid Golfer magazine.
GRAPEVINE:
COWBOYS GOLF CLUB
Public
Tarrant
Etched into the rolling hills of Grapevine, Texas, Cowboys Golf Club is distinguished as the first and only NFL-themed golf club in the world, and one of the region's only all-inclusive world-class resort golf properties.
IRVING:
COTTONWOOD VALLEY
Private
Dallas
As the exclusive golf course for members of Four Seasons Golf and Sports Club, Cottonwood Valley features Bermuda grass fairways, bentgrass greens and tee boxes, and strategically placed bunkers. (See also Four Seasons Las Colinas at same location.)
FOUR SEASONS LAS COLINAS
Private
Dallas
A Certified Audubon Cooperative Sanctuary and Environmental Leader in Golf Award winner, our 18-hole, par-70 TPC championship course offers every golfer the opportunity to have amazing encounters with nature and wildlife all while enjoying the game. (See also Cottonwood Valley Golf Course at same location.)
HACKBERRY CREEK
Private
Dallas
Named one of the Best Country Clubs in DFW by Avid Golfer the course is located in the heart of the Dallas/Fort Worth Metroplex. Hackberry Creek Country Club an 18-hole Championship Golf Course designed by the legendary Byron Nelson, Member Xlife.
LAS COLINAS
Private
Dallas
The 18-hole Las Colinas golf course recently underwent a multi-million-dollar renovation. Classically designed in 1963 by Joe Finger provides plenty of challenges for all golfers.
McKINNEY:
CRAIG RANCH GOLF CLUB
Private
Collin
At TPC Craig Ranch, you will experience a championship practice facility and perfectly manicured 18-hole, par 72 - Tom Weiskopf designed golf course featuring the beautiful, gently rolling hills and mature woods surrounding the limestone banks of Rowlett Creek.
ELDORADO
Private
Collin
Designed by Gary Roger Baird, Eldorado is a par-72 course, 18 hole golf course in McKinney with full social amenities, tennis club and much, much more.
STONEBRIDGE
Private
Collin
A family-friendly club that provides two distinct golf settings in one location. The Pete Dye designed Stonebridge Club offers an 18-hole course while the Arthur Hills Signature Course at The Ranch provides a challenging 27 hole course. Member Xlife.
PLANO:
GLENEAGLES GOLF COURSES
Private
Collin
Two beautiful, diverse courses 'Queen' (considered more difficult) and King' offer challenge and delight for players at every level. Recently renovated for ideal conditions year-round.
PECAN HOLLOW
Public
Collin
Originally designed by Don January the course was rebuilt by the Weibring-Wolfard Group and reopened in 2011 and has become a favorite in the area. A 7,026 yard course with mini verde greens. Also have a 5 hole short course, a chipping green with three practice bunkers
PRESTONWOOD - CREEKS
Private
Collin
Prestonwood - The Creeks, one of two courses, offers a more traditional atmosphere that provides a retreat for business and family outings. ClubCorp Member.
PRESTONWOOD - HILLS
Private
Collin
Prestonwood - The Hills, one of two courses, provides a more contemporary country club style with a large extended deck at the clubhouse for drinks with friends and business associates. ClubCorp Member.
RIDGEVIEW RANCH
Public
Frisco
Ridgeview Ranch Golf Course has become one of the more popular courses in the DFW Metroplex in the past few years and features an exceptional Jeffrey D. Brauer design, which boasts more than 80 newly renovated and strategically-placed bunkers, several creeks, and gorgeous rock outcroppings. We are known for our fantastic course conditions and perfect mini verde greens.
PROSPER:
GENTLE CREEK
Public
Denton
Gentle Creek's scenic course meanders through 235 acres of manicured fairways and wooded countryside. Gentle Creek is known as one of the Top 10 golf club courses in DFW and one of the Top 50 courses in Texas.
RICHARDSON:
CANYON CREEK
Private
Collin
A family-friendly year round and an enjoyable 18-hole championship course. An XLife member. Club also has tennis. dining, and other country club standard benefits.
SHERRILL PARK
Public
Collin
Leon Howard originally designed both Sherrill Park courses. PGA Tour Professional D. A. Weibring and Design Resource, Inc. completed the redesign of Sherrill Park Course 1 in 1997 and Course 2 in 2001. The redesign helped create a variety of shot making choices from the tee to the greens.
ROCKWALL:
BUFFALO CREEK
Public
Rockwall
Buffalo Creek Golf Club is a premier 18-hole public course located a short distance outside downtown Dallas in Rockwall, Texas. A par 71 course, it was designed by Jay Morrish and Tom Weiskopf and winds around the natural terrain to take advantage of the spectacular views of Lake Ray Hubbard.
ROCKWALL GOLF & ATHLETIC CLUB
Private
Rockwall
This 18-hole playground a sanctuary amid the DFW hustle and grind. RGAC's golf program offers competitive and social events for our club's aspiring golfers and leisure players providing challenges and memories for all levels.
ROWLETT:
WATERVIEW
Public
Dallas
Waterview Golf Club boasts a championship golf course with a challenging level of play for all golfers, from beginners to professionals. What was once pastureland is now a lush, gently rolling, par 72 course featuring 15 acres of lakes and 1,500 trees representing 18 different species.
SOUTHLAKE:
TIMARRON
Private
Tarrant
Home to a breathtaking Byron Nelson-designed golf course Timarron offers a sophisticated haven for a busy lifestyle, with chef-crafted creations in their own restaurant, a boutique fitness center and a busy calendar of events to network and socialize. XLife Member.
THE COLONY:
STEWART PENINSULA
Public
Collin
Inspired by both Scotland's classic links architecture courses and California's Monterey Peninsula coastal courses, this Tripp Davis design presents unique challenges on every hole, which force choices.
THE TRIBUTE
Public
Collin
Home to the only LPGA event held in Texas it offers two challenging courses, The Tribute and Old American
WESTLAKE:
VAQUERO CLUB
Private
Tarrant
Vaquero is a spectacular private course created by world-renowned designer Tom Fazio. The course features a classic, playable design that makes artful use of the rolling terrain, shady oaks, quiet ponds and unique sand bunkers.
WYLIE:
WOODBRIDGE
Public
Collin
Woodbridge Golf Club, a must play for Texas public golf courses in the Dallas / Fort Worth Area. We've been rated four stars by Golf Digest, and a "Best Dallas Course" by Texas Outside Magazine. Woodbridge offers a scenic, yet challenging golf course that is enjoyable for golfers of all skill levels.
For information on the homes 'for sale' below, community amenities, schools, taxes and to schedule a private showing, call 469-556-1185.