According to a report by the National Association of REALTORS® issued Wednesday, September 30. 2020, the current pending home sales are well above pre-pandemic levels and substantially above the forecasts. August marked the fourth month in a row of increasing sales contracts. This report, the "NAR Pending Home Sales Index," stated that "Contract signings are now 24.2% higher than a year ago."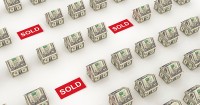 "Tremendously low mortgage rates—below 3%—have again helped pending home sales climb in August," says Lawrence Yun, NAR's chief economist. "Additionally, the Fed intends to hold [its] short-term funds rates near 0% for the foreseeable future, which should, in the absence of inflationary pressure, keep mortgage rates low, and that will undoubtedly aid home buyers continuing to enter the marketplace."
The U.S. housing market has made a surprising recovery since the outbreak of COVID-19 first struck. "Home prices are heating up fast," Yun says. "The low mortgage rates are allowing buyers to secure cheaper mortgages" and is allowing many new and first-time home buyers a window of opportunity to enter the market.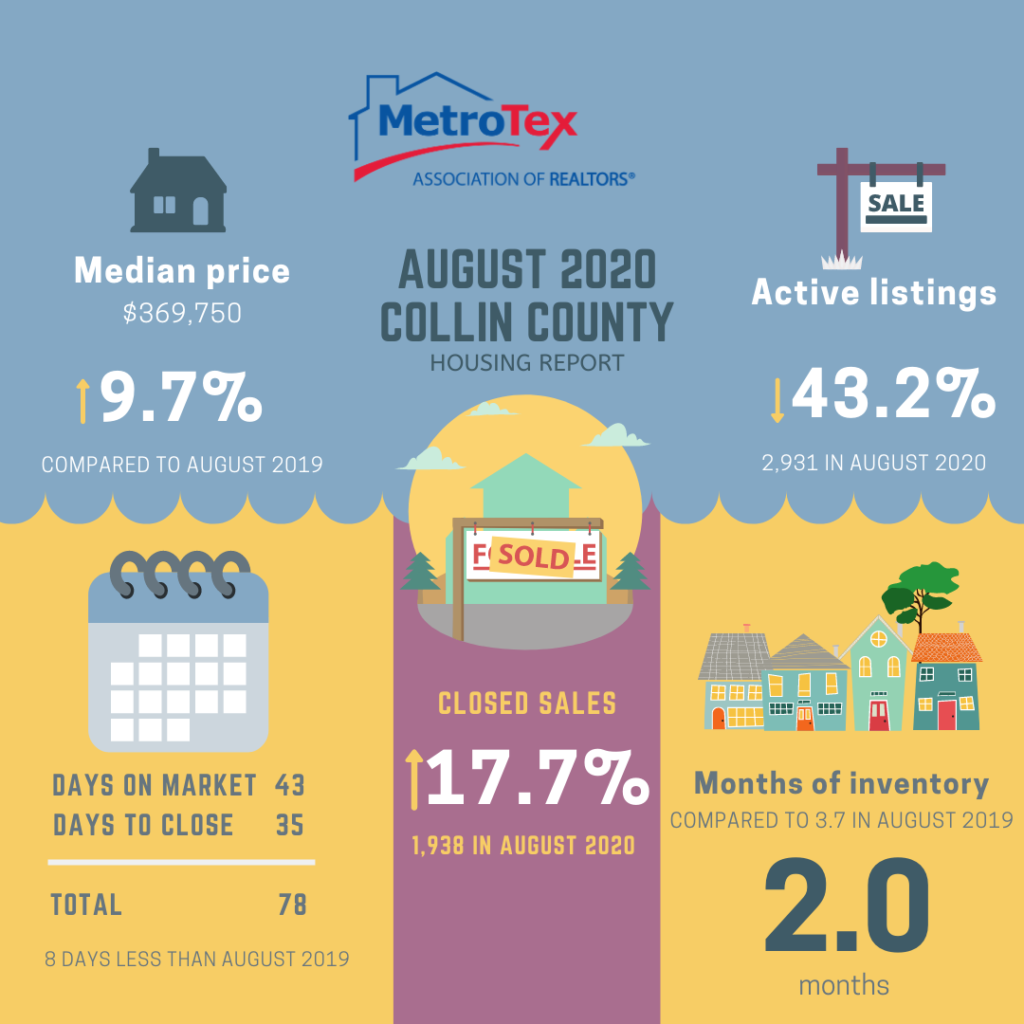 Data provided by MetroTex Real Estate Association® shows that August 2020 home sales and purchases, for example Collin County, remains well above August 2019.
Sellers and Buyers alike should be watching closely the inventory of homes which has been in a solid 'seller's market' range for nearly a year which has contributed to the 9.7% increase in home median price of 9.7% between August 2019 and August 2020.
Several factors are contributing to these strong statistics for Collin County and that is the strong economy in the area, a number of companies relocating to the Plano and Frisco area along with the continued uncertainty in the economy due to the pandemic as well as the presidential election.
The facts are clear, if you are looking to Buy or Sell – NOW IS THE TIME!
Other key county metrics in the north Dallas/Fort Worth Metroplex are in the following chart.
MetroTex Association of Realtors®

August 2019 to August 2020

Median Price

Active Listings

Closed Sales

Months of Inventory

Collin

Up

9.7%

Down

43.2%

Up

17.7%

Up

2.0

Dallas

Up

13.1%

Down

26.4%

Up

6.3%

Up

2.5

Denton

Up

6.4%

Down

38.7%

Up

9.4%

Up

1.9

Tarrant

Up

6.1%

Down

34.4%

Up

6.0%

Up

1.7
Despite the pandemic, home prices have continued to rise and inventory of homes continues to drop. For buyers this means now is the time to strike while there is still inventory and opportunity. For sellers this means that if you were thinking about selling – now is the time as this market will not last forever.
If you're thinking of making a move, now is a great time to take advantage of the affordability that comes with such low mortgage rates. Whether you're thinking of purchasing your first home or moving into a new one and securing a significantly lower mortgage rate than you may have on your current house, reach out and let us show you what your next steps in the process should be.
Contact me at 469-556-1185 or RealEstate@GeniManning.com for a no obligation phone consultation!

Geni is a native Texan and has spent her life in this area as a professional real estate agent. Her reputation is impeccable, and she has personal contacts across literally thousands of brokers and agents in the Dallas/Fort Worth Metroplex. Geni and her Team know how to SELL, what works and what doesn't! She has a proven track record of selling homes faster and for a higher price than most agents (even in the very difficult markets)! With Geni and her Team on your side you can be assured of the most professional and successful marketing strategy. With Geni Manning's credentials, knowledge and decades of experience, she is a true Master of Real Estate.