How To Increase Your Home's
Resale Value and Marketability
Even in a 'sellers market' you still want to stand out to differentiate your home from your competition. So, what can you do to help make your property stand out? It's Simple. Home improvements and renovations are a quick and easy way to boost your property and capture the attention of buyers across the board. Invest in your home and its appearance by prioritizing some of these simple renovations/upgrades to help increase your home's marketability and overall value when it hits the market.
.
Simple and Attainable Fixes
In the real estate industry, we call it "curb appeal," which I'm sure you've heard before. We all know the importance of first impressions and the saying that "you never get a second chance to make a first impression." Well, this is also true of selling your home. What your home says to a prospective buyer when they pull up in front of the house will be louder and last longer than nearly anything else.
In fact, it can make the difference between them wanting to get out of the car and come in or not. What a shame to have a spectacular interior and an amazing backyard and a qualified buyer is stopped before they even go in – I've seen it happen. So, what we are going to discuss first are those Simple and Attainable Fixes that addresses curb appeal.
Landscaping
Investing in professional landscaping is a fast and easy way to boost your home's overall curb appeal and capture the eye of potential buyers.
You want them to think 'if the front looks this good I've got to see the inside.' You've moved a step closer to a sale! Agents across the nation report that buyers are placing much more emotional value on a home if the yard is landscaped and looks great. Members of the National Association of Landscape Professionals and REALTORS ranked a standard lawncare service as the number one project that appeals to buyers. Landscape maintenance and tree care recovered 100 percent of the costs at the time of sale – that's an amazing 100% Return On Investment (ROI) and you can't get better than that. Depending on the size and condition of the yard, sprucing up your landscaping can be a great way to give a boost in value, develop more interest in your home and create that all important emotional connection! Industry statistics indicate that upward of 95% of buyers are looking online at the real estate websites for homes – you want yours to stand above the rest.
Garage Door Replacement
For those homeowners with a garage in the front, it is most important for it to be updated. An outdated, broken, dented or shabby looking garage door can be an appeal killer to potential buyers. It is really a big negative on the curb appeal meter!
The good news for sellers, is that a garage door replacement in 2022 has had the highest ROI for any physical remodeling projects at 93.3% from a recent study by the National Association of Realtors® (NAR).
There are several benefits to replacing your garage door. A new garage door can increase your home's security. New doors can be stronger and heavier and more energy efficient. Newer models come with features to protect people and animals from accidental injury.
Entry Door Replacement
Another project that can help boost your home's curb appeal and overall market value is replacing the entry door. The front door is the first thing buyers look at as they walk into the house.
A door that is dirty or needs to be painted will turn off a buyer quickly. A loose or tarnished door handle does not give a feeling of security and this can immediately sour a potential buyer's interest. Making this relatively small investment in a new door is a great idea if your home is sitting on the market. The 2022 numbers from the NAR report give "entry door replacement" an ROI of 63.8%, meaning it's a sound investment if your property needs a boost with buyers.
Window Upgrades
Windows are a very important and most overlooked part of any property. If your home has old windows with cloudy or fogged sections or are out of style, it's possible they could be turning buyers off.
While windows can be an expensive update for those properties with tons of windows, they do have an excellent ROI (67.5%) and they come with several benefits:
Enhanced home security and safety - Newer double pane windows are much more resistant to breakage.
Improved energy efficiency and noise reduction - Newer windows that are double pane construction, reduces heat in the summer and heat loss in the winter. The added thickness also provides improved sound deadening.
Improved overall curb appeal - New windows can update the style of your property and provide a new and more modern look to your home.
Windows can be a big decision when it comes to renovations, but they will absolutely appeal to buyers and help your home sell.
.
New Siding
Siding is one of the key visual features of a home and can make or break the decision for some buyers. If the condition of your homes' siding is old, weathered, rotted or warped, it can be an immediate turn off to a buyer.

Just like replacing windows, replacing siding isn't 'cheap.' It's an investment, especially for those with larger homes. Along with a high ROI (68.3% for fiber cementitious material like 'HardiBoard® to 67.2% for vinyl) new siding will also improve energy efficiency.
.
Minor Kitchen Remodel

A minor kitchen remodel is smaller in scope, size and
cost from a major kitchen remodel. During a minor kitchen remodel, some of the
items in the kitchen are left in place and/or reused, as is the basic footprint
of the existing kitchen.
For example, during a minor kitchen remodel, the
existing cabinets may be left in place, and only the flooring and appliances
are replaced. Or the kitchen cabinets may be repainted and a new backsplash may
be installed. Other minor items that can be changed are a new sink, faucet and lighting.
A simple kitchen refresh can breath new life in an outdated kitchen and catch the eye of many potential buyers, giving you an 87% ROI is a great option for those sellers looking to make their home stand out and sell for Top Dollar!
BOTTOM LINE
- Upgrades and key renovations certainly help boost a home visual appeal as well as add to the resale value of the home.
If you are thinking about selling your home and have questions on what you can do to help boost your property's market value just fill out the Contact information below.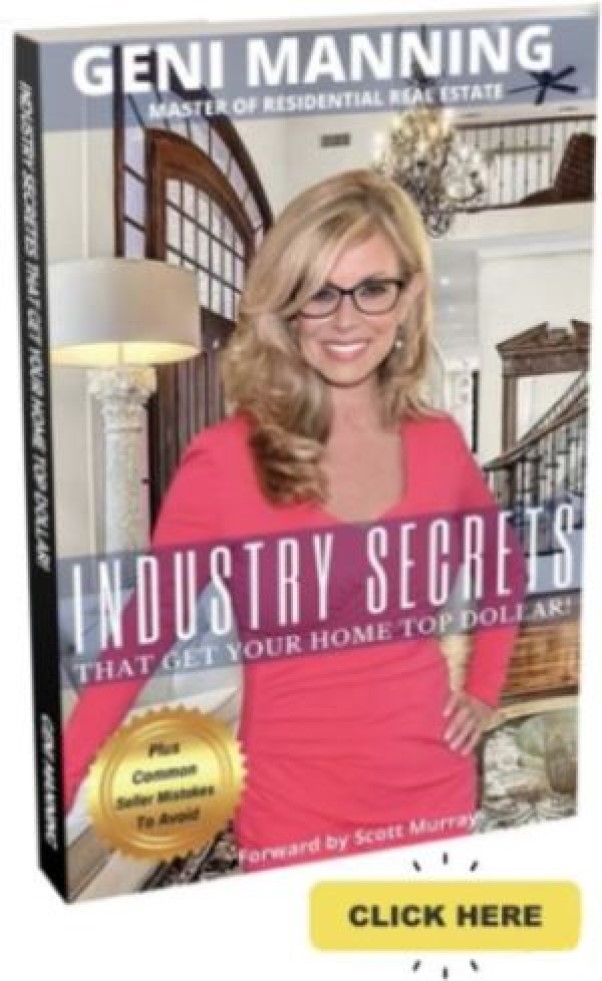 For more industry secrets on how to increase your homes value and marketability, request a copy of Geni's latest book
'
INDUSTRY SECRETS - That Get Your Home Top Dollar!
'