It was your first home, and it was so cute, quaint and sweet when you bought it, right? Just starting out it was perfect for two, but that was before kids and dogs and overnight guests and holiday dinners that
now require PhD level math to manage the logistics of finding everyone a seat in a dining room that bursts at six people.
.
You may also find yourself part of a growing trend of multi-generational families with grandparents, parents and kids – sound great but everybody needs their space. Even more if one or both of you are working remote, from home, then at least one office is in the mix. That cute little starter home is now not so cute anymore!
.
It's time to face it: It's probably time to move up. Lack of space is the No. 1 reason people start looking for a larger home. Families expand, lifestyles change, and the sheer accumulation of stuff can make a small home feel even tighter. "More than a third of all homebuyers last year were families with kids," said
Dave Ramsey, well-known author, speaker and financial advisor. "And 37% of sellers age 36 and under cited cramped quarters as their reason for moving."
.
But running out of room is not the only reason to consider moving up. Let's explore a few more reasons you should be considering a move up.
.
#1 You've got the equity
.
You may have had to scrimp and save for the down payment on your first home, living in DFW has been a potential goldmine for you as your home has very likely appreciated by as much as 50% if you've owned it for at least the past 5 years. This places you in a completely different financial position this time around. If you're the type who envisions paying off your home and being free and clear, moving up may not be on your mind. But, for the rest of us, having equity in our current home means greater buying power to buy something bigger or get into a neighborhood we covet.
.
#2 You need room to move around
.
The COVID pandemic forced a lot of Americans to be together for much more time than before. Work from home replaced the commute to the office and without an office space to work in you can quickly start feeling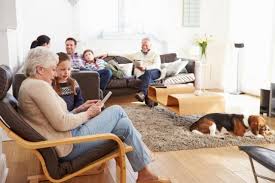 cramped and disliking that you don't have a space of your own or even a minute to yourself. That can create stress and leave you feeling anxious and overwhelmed, not to mention that it goes against the general principle of homeownership since your home is supposed to be your sanctuary! Having some extra room to spread out and yard for the kids and dogs to play in can make a real difference in the way your family functions.
.
Just ask yourself if your 'quality of life' is suffering. This category can include many things: your ever-growing pack of dogs or cats who are driving you crazy. Whatever it might be, if your quality of life has taken a nosedive because you've simply outgrown your house, well, the answer is clear.
.
#3 The neighborhood is changing…and not for the better
.
Another reason you may want to start looking at a new house is because your neighborhood is evolving. Maybe there are new restaurants and bars that have attracted a different crowd or plans for a huge mixed-use project that, while great for the economic potential in the area, could mean more traffic than you want in your quiet little neighborhood. Even something like a change in the flight patterns from the local airport can get you thinking about that next home.
.
#4 Remodeling is price prohibitive
.
A good real estate agent should be able to give you an idea of what necessary (or wanted) renovations would cost to your existing home. It could be that the amount of work you would need to do on your home to get it where you want it - or get it into tip-top shape for a sale - is beyond what you want to spend. In that case, it might make better financial sense to make small improvements, put it up for sale, and put your money into a new home that better suits your needs. We address this issue in more detail in our blogs like:
How To Increase Your Home Value
.
.
# 5 Don't over-improve for your neighborhood
.
The other important factor to consider when deciding whether to move or improve your home is how the redone home would sit in your neighborhood. You don't want to run the risk of doing a bunch of expensive renovations only to have the home sit on the market because it's now considered overpriced.
.
"Weighing against renovation is the risk you'll 'over-improve' your home compared with others on the block," said Bankrate. "When you are in a neighborhood that has starter homes and smaller homes, adding a large addition or doing an extensive renovation may not yield the return one would expect." The Return-On-Investment (ROI) in residential home upgrades is less than 90% with kitchen and bathroom remodeling yielding the highest returns.
#6 Everyone else has moved on
.
So, when the kids were young bicycles and basketball nets lined the street when you first fell in love with your home. At the time, it was everything you were looking for but now, so many of those families have moved on, and the lively street you loved has turned rather sleepy. If you're still holding on to the memories of what your neighborhood once was, maybe it's time to find one that better meets your lifestyle needs today.
.
#7 You've crunched the numbers
.

Before you put your calculator away maybe you should find out how much your home is worth. Then, if you want to proceed further, get an expert opinion on what your home could sell for, what updates to do or not to do, start with this simple analysis of what your home might sell for.
If you're unsure about selling because you don't have a home picked out check out one of our exclusive programs
Buy Before You Sell
. This will allow you to move up to your new home while your current home is on the market!