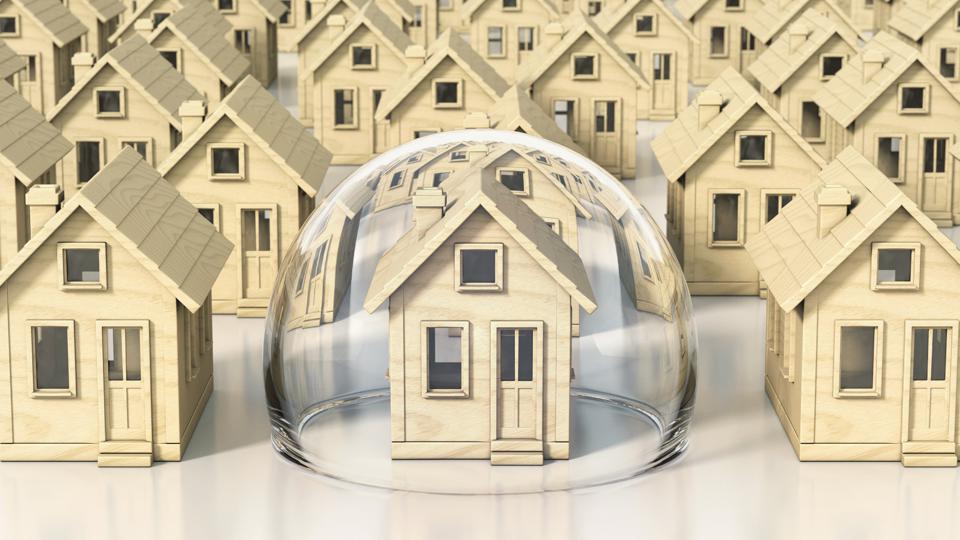 Anyone that lived through the dark days of the last housing bubble 15 years ago is asking the question "is this déjà vu all over again?" (Thank you Yogi Berra!) Are we being set up for another housing bubble burst? The thought of this begs the question from nearly every prospective homebuyer today "will the home I'm about to buy suddenly lose market value because the housing bubble bursts?" This is an excellent question, nobody wants to buy at the top of a market, so has the market peaked and what about this bubble? Those of us that lived through the last big housing bubble in 2005-2008 remember the pain when it burst! But is this the same situation as we had 15 years ago? Will the driving forces creating the "HOT" market create a bubble that will burst or or are things different?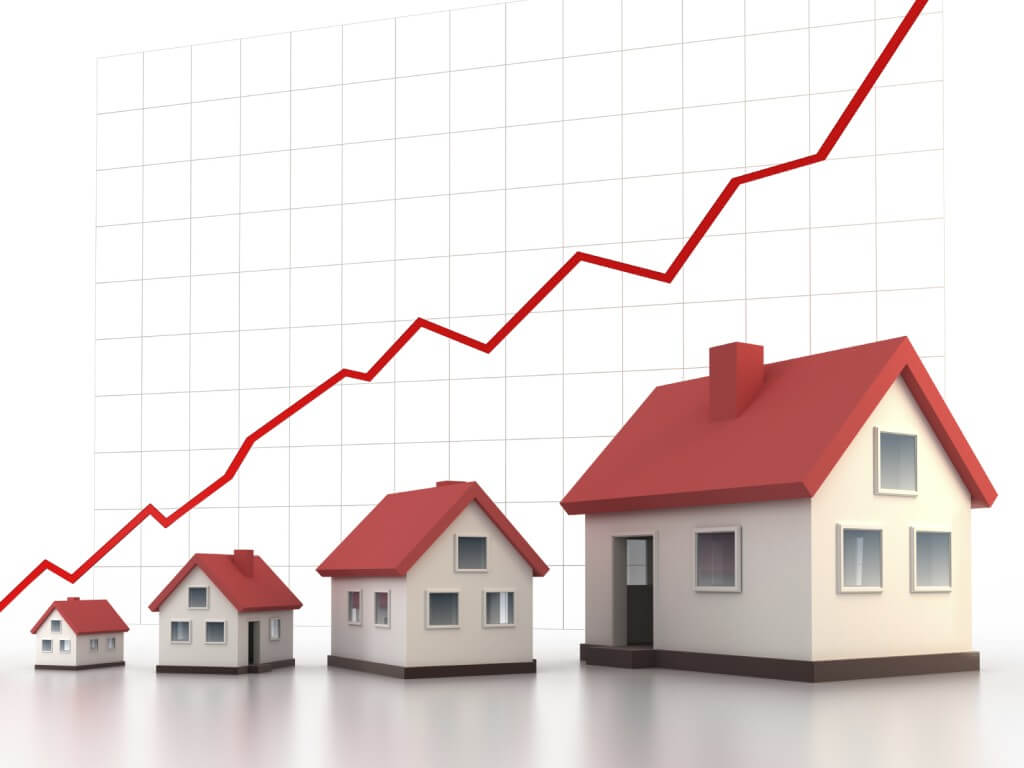 First, we need to differentiate our market in the DFW Metroplex from the rest of the nation. So many of the reports you will read talking about the "Housing or Real Estate Bubble" looking at National trends that do not reflect our local or regional market. This blog is based on local and regional data and not national trends.
Now, let's jump into the question – is there a housing bubble in DFW Metroplex and is it about to burst? Bankrate.com® describes a bubble as 'the effect that occurs when the price of housing rises at a rapid pace, driven by an increase in demand, limited supply and emotional buying. The phenomenon is called a bubble because at some point it will burst.' In other words, prices and home values will eventually come bursting down below what they are currently.
There is no question that the price of residential real estate has been on a meteoric rise in North Texas and in many of the highly desirable areas the homes are selling faster than they can get on the market. Likewise, there is no question that there is a lack of inventory of homes on the market, in fact, the inventory of homes has continued to decline throughout the year and is presently at the lowest level in decades – but what do the experts say for our area.
Dr. Jim Gaines, a research economist at Texas A&M's Real Estate Research Center says he doesn't believe the demand and the market to be artificially inflated. "Right now we think it is more on the order of real demand," Dr. Gaines added. "The reason I say that is. It's based on population growth. It's based on jobs and income levels, and it's also based on the fact that the lenders and mortgage community have tightened standards, not loosened them." In other words, there is nothing disrupting our market in a significant way at this time and the market is behaving in demand-pull inflation as it has for the past several years as the inventory has been winding down.
Inventory – What happened?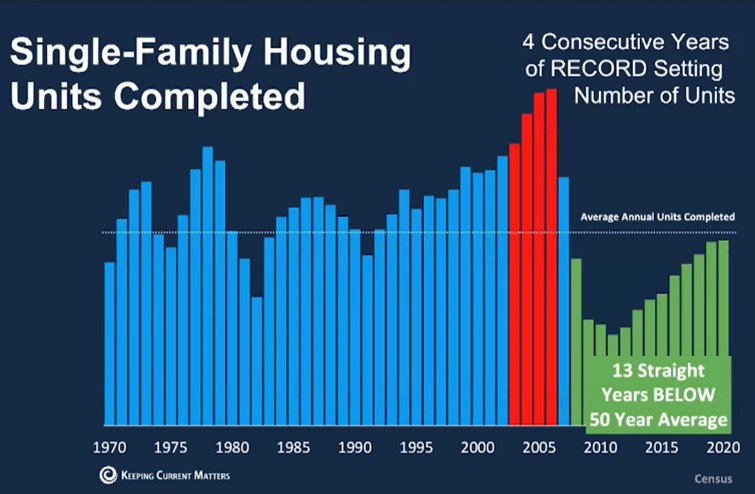 The answer to this question is two-fold: record employment and economic growth in the region coupled with a significant downturn in the number of new homes constructed. In previous years the new homes kept up with demand, at least for the most part. However, home construction for the past 13 years has fallen below previous the 50 year average as the chart on the right clearly shows.
While the market remains historically hot and demand is far outpacing the supply, Dr. Gaines doesn't believe this will last forever. Instead, he thinks as the cost of materials and construction stabilize and interest rates continue to go up the market will self-normalize. So long as demand remains high there is little cause for concern.
Also, in the previous housing bubble, the problem was ignited by the high number of homes falling into the market in a short period of time at distressed prices. Many people were 'underwater' on their mortgages due to the predatory lending and the homeowner could walk away from their property because they had little if any equity, in most cases negative equity. We do not have this threat and those homeowners in forbearance or near foreclosure are being offered opportunity to modify their mortgages due to the amount of equity that exists which enables the lenders to manage the debt swap.
What's the Answer to Our Question?
The answer is quite simply that the market in the DFW Metroplex is softening or slowing slightly as it does every year at this time – this is a cyclical situation. The price on homes will, as indicated by the analysts, continue to rise though maybe not as rapidly and inventory will continue to be somewhat scarce. No one expects to see a housing bubble burst because the conditions of inventory, demand, mortgage interest and lending practices are all solidly in place and the market, as Dr. Gaines indicated, is behaving as a demand-pull market should. No cause for worry or alarm. Buy that house today and it will be worth more in 6 months or less than today – prices are going to go up we have not seen the peak of this market.

FREE SELLING SECRETS BOOK OFFER
For even more tips and articles about selling or buying a home subscribe to Geni's FaceBook and YouTube Channel at:
Geni Manning Real Estate Group – FaceBook
Geni Manning Real Estate Group – YouTube Channel
Contact Geni directly at 469-556-1185 or
RealEstate@GeniManning.com for a
No Obligation phone consultation!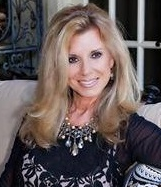 Geni is a native Texan and has spent her life in the Dallas/Fort Worth Metroplex. She has served North Texans for nearly four decades providing expert advice and real solutions to their real estate goals. She is an author, speaker and trainer with an impeccable reputation for integrity and determination. Geni's personal contacts reach across literally thousands of the top brokers and agents throughout the nation, affording her a unique ability to help you with your relocation needs, Geni and her Team know how to SELL, what works and what doesn't! She has a proven track record of selling homes faster and for a higher price than most agents, even in the most difficult markets! You can be assured of the most professional and successful marketing strategy for sellers, and a thorough knowledge of the area for buyers. Geni's credentials include earning 12 highly recognized designations and 100s of Five Star Reviews, which is why Geni is known as a Master of Residential Real Estate.
This article is under Copyright © June 2021 Geni Manning, Geni Manning Real Estate Group, Frisco Stars, Frisco, TX.
Mobile App
Our KW Mobile App connects you to the MLS and allows a buyer to search and sort homes by price, location and much, much more. Once a property is found simply save it properties and the app will notify me of your choices. This allows me to place your home on the list and follow up with you and the listing agent.
Check out this amazing mobile app right here with the QR code below or if you are viewing via an iPhone simply click this link to download the app:
Be sure to set up your profile by going to the icon in the bottom right of the screen and create your account. We're in business!