Wrap Up Summer with August Tasks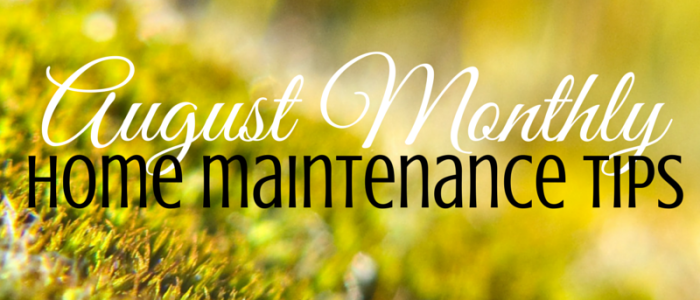 The dog days of summer are barking, and Labor Day is just around the bend, signaling the end of yet another epic season in the sun. But before you give your flamingo pool float one last hurrah, take a break with some home maintenance prep for the changing season ahead.
We know what you're thinking: It's still summer, and you're being a buzzkill! Why worry now about what you can do next month? Well, as it turns out, some home maintenance tasks are best tackled in August, before temperatures start changing.
Don't worry: We're here to make all those chores as quick and easy on you as possible.
.
Check Washing Machine

With the kids home from school for the summer and loads of dirty and sweaty garments to clean, your washing machine has likely taken a major beating this summer. With all that extra use, be sure to check that the water supply hoses which connect to your machine are in good condition, look for leaks around couplings and signs of swelling at the couplings and cracks or checking when you gently bend the hose.
If the hoses, both hot and cold, are more than five years old you should consider replacing them. If your hoses are made of rubber, consider upgrading and replacing them with rupture-proof, braided stainless-steel hoses as shown in the photo to the left. They cost a little more but eliminate the risk of a hose rupturing while you're on vacation or even at work and flooding your home.
DIY:
If you have worn hoses, you can swap them out with replacements for as little as $25, but it'll take you some minor effort. After you've turned off the water supply to the hoses, use adjustable pliers to loosen one hose at a time from the water supply, and then from the washing machine. You'll also need to make sure your new hose has a NEW rubber washer in each end.
While you are at it now is a great time to clean your washing machine. Okay, this does sound a bit strange but The dirt that
disappears from your clothes, towels, and sheets has to go somewhere, which means grime can build up inside your washing machine over time. Without regular cleaning, the appliance might also harbor leftover detergent, hard-water deposits, and mold or mildew around the lid. Watch the following video for some quick and easy tips on cleaning your washing machine.
.
Check Safety Devices

Smoke alarms and carbon monoxide detectors should be tested at least once a month and replaced every 10 years, according
to the U.S. Fire Administration. Test smoke detectors and carbon monoxide detectors by pressing the test button; replace batteries as needed. Also, take a moment to check the expiration date on any fire extinguishers in the house and replace them if needed.
.
Deal With Insects

Wasp activity peaks in late summer; these insects become more aggressive and more likely to sting in, you guessed it, August. So, you'll want to spray for wasps and eliminate them, pronto.
DIY
: The first step to eliminating a wasp nest is to identify where the colony lives. Scan your lawn, looking for activity close to the ground. Once you find where the wasps are coming and going, apply wasp treatment to the entrance. Repeat this step every few days until you no longer see any further activity.
If you're seeing an increase in mosquito activity its a good idea is to walk around your property and look for stagnant water, or areas that are remaining wet or damp which can be a breeding ground for mosquitoes – remember wasps, hornets and bees all need water too.
Drain any areas that are holding or collecting water—this step alone should significantly cut down on mosquito activity. This means birdbaths, planters, or any other places where rainfall might have accumulated such as at downspouts. Include your gutters where there may be standing water that does not fully drain due to a sag or lack of proper slope in the gutters. For further prevention, invest in forms of mosquito repellant like citronella candles, mosquito traps and bug zappers.
Finally, check the seals around your home, including doors, windows, and dryer vents. Caulk or expanding sealants should be more than enough to seal most openings.
Call in the pros:
The national average cost of wasp removal ranges between $100 and $1,300. The cost of mosquito control depends on a variety of factors, including property size and treatment frequency. An entire summer of mosquito treatment could run $500 or more, but you're more likely to get a deal now that it's later in the season.
Clean Your Natural Stone
Clean natural stone around your home to prevent food, dirt, and oil stains from setting in and becoming permanent.
After a summer filled with nonstop grilling fests, family gatherings, and just general outdoor fun and wear and tear, it's important to properly clean the natural stone around your home—whether it's outdoor granite countertops, stone walkways, or patios.
DIY:
Start by dusting off stone surfaces, because abrasive materials such as dirt or sand (carried home from weekend getaways) can cause damage. Avoid using harsh cleaning products on natural stone; instead, choose a gentle cleanser with a neutral pH, preferably without soap which can leave streaks and a film.
Use a soft cloth, terry cloth or microfiber and for a longer-lasting finish and better protection against stains and grime, consider applying a water-based penetrating sealer. There are many available with a choice of sheen and most can be applied easily with a paint roller.
Call in the pros:
For serious stains, call in a professional stone maintenance company to restore your stone. Expect to spend anywhere between $400 and $1,200, depending on the level of grime and the area to be cleaned.
Replace Your HVAC Filter
A routine maintenance item is replacing your HVAC (Heating, Ventilating and Air Conditioning) filter about every 30 to 60 days. If you have pets, or someone in the home with allergies or chronic respiratory illness, then best to replace every 30 days and consider a high-efficiency filter. The filter is located in the part of the air conditioning system that is inside the house, as opposed to the condensing unit that sits outside the house. First, it is always a good idea to "open" the air handler circuit breaker and open the front panel on the air handler unit. Some installations have the filter behind a large vent in the ceiling or wall directly at the air handler plenum. If the filter is installed in a ceiling vent, simply open and remove the old filter and replace with a new one. You'll need to check the size before you remove it, but you can get replacement filters in most common sizes at Home Depot or Lowe's or other hardware stores and you may find the size you need in your local supermarket. Replacing the filter often (at least every 60 days) helps keep your home cleaner. Don't forget to reset your circuit breaker once you are done!
.
Clean Garbage Disposal
Your garbage disposal can see a lot of use and we have some general rules to help it working better and lasting longer. Remember, not everything can go down the disposal. Do not put any kind of stringy vegetable skin down your disposal such as a banana peel - it will create a mess and will not be chewed up by the teeth in the disposal. Do not put chicken bones in the disposal as they can splinter and come flying out and harm someone near the disposal. Also beef and pork bones are also best left for the dog and it should go without saying that fruit pits like peach, nectarine and avocado belong in the garbage.
If your disposal drain becomes slow there are some easy things to do to get it back on track. First, try about a cup or more of ice from your freezer and put them down the disposal.

DO NOT PUSH THE CUBES IN WITH YOUR HAND WITH THE DISPOSAL RUNNING!!

Turn the unit on and run a little cold water followed by some more cubes. If you must push the ice cubes down the throat of the disposal use a large wooden or plastic spoon. The ice shards will clean the teeth and grinding plate of the disposal as well as scour the inside of the drain pipe.
If this does not help, a simple solution of baking soda and vinegar will help dissolve and remove grease and other debris that may have collected in the drain piping or the p-trap. Use about a 1/2 cups of baking soda in the disposal and add about 1 cup of vinegar. It will foam up but this is what you want it to do - you do not need to run the disposal. Pour about a half cup of hot water slowly to push the vinegar and baking soda down through the disposal. Let it set for about 5 minutes and then run ice cubes as above. Your disposal should be running fine and draining well.
A good monthly maintenance tip to keep you disposal fresh and working well is to use a 1/2 cup of ice cubes at least once a month and if you are getting an odor from the disposal just put a few citrus rinds through it and it will freshen up right away. It's also a good practice to run COLD water as you are running the disposal and then continue to run the water for a few seconds to ensure everything is flushed through the drain piping.
Need professional assistance? Click below for local contractors.