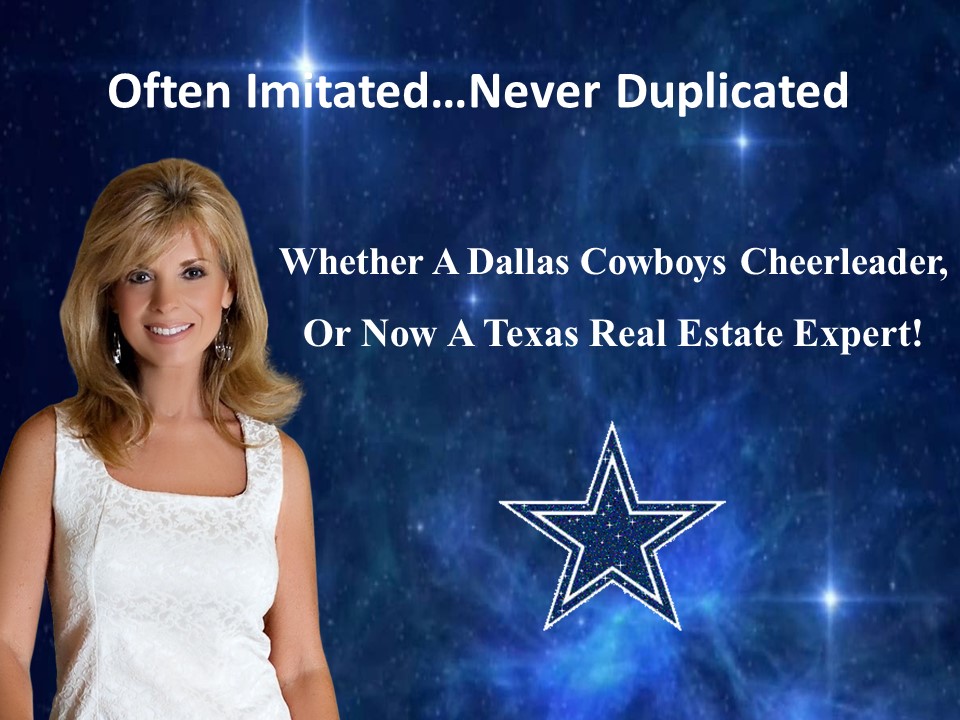 One Little Idea. With One Great Big Result.
Geni Manning's deep-rooted love for architecture and design led her to start a home building business in Colleyville, Texas in 1980. Drawing her own innovative floor plans, staying abreast of the latest trends and features that Homebuyers and Homeowners are looking for proved to be a success. The culmination of this experience led her to a decision that was inevitable; to pursue a full time career in the real estate business. In 1982, Geni received her real estate license, was rookie of the year at the second largest real estate office in Tarrant county, and was their top producing agent three consecutive years.
In 1985, Geni opened a new RE/MAX office for a local Broker, hired, trained and managed the agents. When the real estate business crashed in Texas, Geni saw an opportunity to venture out on her own and start specializing in Foreclosures. However, she realized the value of a team of experts working together for a common goal. With her leadership skills, she put together a first-class group of highly skilled Realtors & real estate professionals and created a unique culture of collaboration and growth, where each member of the team worked together and shared their knowledge and resources.
And that's how the Geni Manning Real Estate Group began.
One little idea. With one great big result.
Throughout the years Geni has been a Top Producer and consistently displays her service-oriented attitude! Many buyers and sellers have noted that Geni is a
true professional
, full of energy and enthusiasm with a keen understanding of today's highly competitive market. Her outstanding achievements can be attributed to two simple facts: Geni cares and thrives on helping her clients achieve their goals, and she doesn't mind working hard to accomplish them. Combine that with her high standards of excellence and ethics, and you can be certain that you will be treated fairly and professionally.
Geni has been featured in Texas Realtor magazine and the Plano Profile 'Women In Business' as a leader making a difference in our communities, and she is often asked to be the featured real estate expert on several radio talk shows.
Due to her vast experience as a Realtor, former builder and interior decorator, Geni Manning is a trustworthy source of information for both buyers and sellers. Simply put, she is a master of residential real estate…and the rest is history.
Geni is a member of Christian Women In Media, National Association of Professional Women, National Association of Realtors, Texas Association of Realtor, Collin County Association of Realtors, Word Weavers International, Word Weavers Collin County, and the past Chairman of Christian Business and Professional Women of America.
On A Personal Note… Geni is a former Dallas Cowboys Cheerleader who experienced the Super Bowl, movie making and world traveling. Geni today continues to enjoy serving our 'senior' communities and participating in philanthropy causes as an alumni for the Dallas Cowboys Cheerleaders and the NFL Alumni Association.
As a national inspirational speaker, and a guest on radio & TV talk shows, Geni is frequently asked to share her 'life story.' She is a published author and through her encouraging words of hope, she now is writing her memoir.
Photo: Alumni Dallas Cowboys Cheerleaders and NFL Cheerleaders helping an orphanage "The Chosen One ". Making new friendships while helping those in need. We spent the day with newly adopted children and their families as well as hopeful children to be adopted with a day filled with laughter and tears of joy. If you would like to help and donate toys, clothing, strollers, etc. The Chosen One, 2619 Gravel Rd, Ft. Worth, they would love your donations.