The continued escalation in home valuations, along with mortgage interest rates, is fueling the home renovation market. After all, if moving is not presently an option then reinventing and renovating what you have becomes a way to revitalize the appearance and feel of you home.
The question to be answered first is 'am I doing this to enhance the sale of my property or are we doing this for ourselves?' If upgrading for a future sale, then keep about a six-month to one year horizon to place the home on the market and keep the upgrade on scale with the home market value. It is beneficial to speak to a Realtor regarding what the majority of homes in your area offer - stay consistent with your market.
On the other hand, if you are doing the remodel for yourselves then maximize the change to your taste and desires but don't go overboard – even if you are planning on keeping the house for a few more years.
Majority of homeowners replace their cabinets
C
abinets are a major component in any kitchen and are both functional as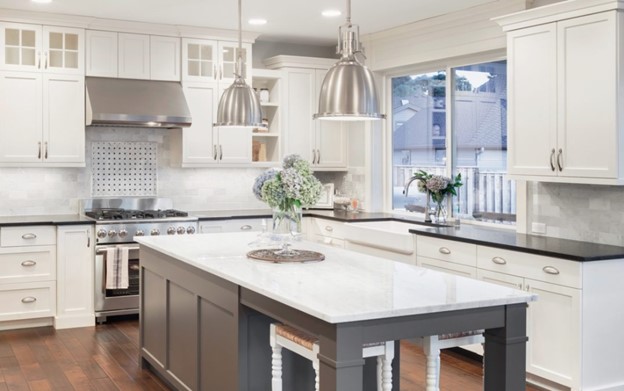 well as stylistic. They organize, store and hide kitchen items that might
otherwise be sitting on the countertop, Cabinets also make up a large amount of the visual space, so they play a big role in how a kitchen looks and functions.
Most renovating homeowners (65%) replace all their cabinets, while about one-third partially replace their cabinets and less than 10% do not replace or upgrade their kitchen cabinets. The field is well divided between those homeowners that add cabinets, about one-fourth, while some simply replace only the doors, about one-fourth, with about 20% replacing some cabinets and the remainder refinishing the interior and exterior as well.
Shaker-style cabinets most prevalent
More than 60% of homeowners choose Shaker-style cabinets for their kitchen, followed by flat-panel (17%) and raised-panel (13%).
Nearly half of homeowners choose custom construction, while a little more than a third go the semi-custom route. The overwhelming majority choose solid wood cabinets, while a fifth opt for plywood.
More than half of homeowners add or update a kitchen island during a kitchen remodel and of those, 12% choose a cabinet door style for the island that's complimentary but different than the style of the main cabinets. Shaker style is the most popular contrasting style, followed by raised-panel and flat-panel.
Cabinet colors
White is by far the most popular color when it comes to kitchen cabinets with 40% of homeowners choosing it; although wood still remains a strong runner-up. Combining medium- and light-tone wood options, wood cabinets are chosen by nearly 1 in 5 homeowners. Gray is also a popular selection, with 1 in 10 homeowners choosing it for the past three years.
Specialty storage options
H

omeowners are now choosing creative storage options to provide added
organization for convenient storage for a variety of kitchen utensils and small appliances. Just over 50% of homeowners choose organizers integrated into their cabinetry for cookie sheets and other infrequently used utensils, while a much larger majority add pullouts for waste and recycling or pet food, etc. Some of the optional convenience storage is being provided for items such as storage spices, cutlery, utensils, pots and pans and small appliances. Many go with specialty storage solutions like deep drawers, Lazy Susans', pullouts or swingouts and corner pullouts, as well.
Bottom Line
Remember, a good Realtor will know more about the target market and the upgrades and renovations that will yield the highest ROI. For more wisdom and guidance click on the book or the following link to get a FREE copy of Geni's new book '

Industry Secrets That Your Home Top Dollar! '
We can provide you with a Comparative Market Analysis of your home and help you decide on how much to spend on upgrades to maximize the value of your home. Just call me at 469-556-1185 for a no obligation consultation.
Also, we suggest putting a link to our blog site in your internet browser bar so you can check back as they are published every week.