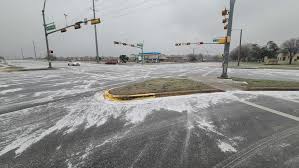 The start of the 2021-2022 Winter season here in the Dallas-Fort Worth (DFW) metroplex is upon us and we can expect frequently cooler temperatures and much-needed rainfall. Occasionally, our weather can be more than inclement as we do have the random winter storms that can bring colder temperatures and even some snow. Though this doesn't usually last for more than a day or so the effects can be devastating if you are not prepared.
As we learned the hard way last winter there is always the possibility of subzero weather. We were visited by a once in a 100-year storm, an Artic Vortex (meteorologists call a 'frozen hurricane' which sounds like a drink). This storm, named Winter Storm Uri, lingered around our state for nearly two-weeks in mid-February. The storm caused nearly $200 billion in damages and resulted in a confirmed 237 unfortunate and unnecessary deaths, many due to lack of heat in their homes when temperatures fell below zero for days with no electricity. This is Texas and this year we have no excuse to not be prepared.
Winter storms create a higher risk of car accidents, hypothermia, frostbite, carbon monoxide poisoning, and heart attacks from overexertion. Winter storms including blizzards can bring extreme cold, freezing rain, snow, ice and high winds.
A winter storm can:
Last a few hours or several days.

Cut off heat, power and communication services.

Put older adults, children, sick individuals and pets at greater risk. Make it a point to check on elderly family, friends and neighbors should the power go out.
First step, review and perform the Fall Home Maintenance Checklist in our website to prepare your home on the outside. Next, follow the guidelines in this brief video prepared by FEMA on Winter Weather preparations.
Additional Preparations:
Make a list of outdoor items that could be damaged by a storm and move them to a sheltered or enclosed area and

remove dead limbs from trees.

If a winter advisory has been issued by the National Weather Service make sure to keep your cars gas tank at least half full at all times and take out some emergency cash as power outages will shut off ATMs and banks will be closed.

Prepare an emergency kit for your family – food (shelf-stable items you don't have too cook), water, medications for 72 hours. Don't forget to include your pets as you purchase or build a kit to keep at home!

Consider making an interior closet into a storm shelter that can provide an additional layer of protection for your family. The small size allows body heat to keep temperatures up and minimizes the effect of cold – DO NOT USE COMBUSTIBLE HEATERS FOR HEAT!

Review evacuation plans. You and your family should pick two locations to go to for safety in the event of you must leave your home though this is not recommended. Choose one out-of-town person as an emergency contact and create a list of emergency contacts that can be kept in a safe, readily available place.

Locate water, gas, and electricity shut-offs. Finding the water, gas, and electricity shut-offs should be among the first things you do when you move into a new home. Wait to turn off your gas until local officials tell you to do so. Substantial damages were incurred in the 2021 February storm due to burst water pipes that could have been largely averted by turning off the water to the house and opening a few faucets to allow the water to drain out of the pipes.

Gather insurance documents and other vital records into a plastic sealable pouch. Your homeowners insurance documents and vital records such as birth and marriage certificates, wills and other important contracts and deeds should be part of your storm kit and be readily available in the event of a disaster. You may need proof for claims and assistance and, if you evacuate the area you may need these documents for proof of residency to be allowed to return to your home.
As we continue into the winter season, talk about these tips with your family to ensure that everyone is prepared for significant winter weather events.
Bottom line
Your family's safety comes first and is important to us. We want you to be prepared for any emergency and we want you to think of us when it comes time for you to sell or buy a home.
Remember, a good Realtor will know more about the target market for your home than you do. For more wisdom and guidance click the following link to get a FREE copy of Geni's new book 'INSIDER SECRETS That Get You Home Sold For Top Dollar!'.

Also, we suggest putting a link to our blog site in your internet browser bar so you can check back as they are published every week.
You can also signup for our monthly North Texas LifeStyle Newsletter where we have more information on local community events and things to do, timely tips, a spotlight on a local small business and much more.
We're always interested in your feedback or suggestions on topics you'd like to see in a blog or in our newsletter, feel free to let us know at RealEstate@GeniManning.com.