A recent report by CoreLogic Home Price Insights Report, nationwide home values, including distressed home sales, increased by 8.2% over the last twelve months. The report suggests that the dramatic rise was brought about as the inventory of homes for sale reached historic lows at the same time buyer demand was buoyed by record-low mortgage rates. As CoreLogic explained: "Home price growth remained consistently elevated throughout 2020. Home sales for the year are expected to register above 2019levels. Meanwhile, the availability of for-sale homes has dwindled as demand increased and coronavirus (COVID-19) outbreaks continued across the country, which delayed some sellers from putting their homes on the market. While the pandemic left many in positions of financial insecurity, those who maintained employment and income stability are also incentivized to buy given the record-low mortgage rates available; this is increasing buyer demand while for-sale inventory is in short supply."
Where will home values go in 2021?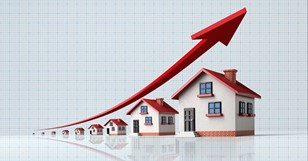 On a nationwide average home price appreciation 2021 will continue to be bounded by a shifting balance of supply and demand. As we learned in Economics 101, as supply remains low and demand is high, prices will continue to increase.
The forecast for the D/FW Metroplex is expected to be even more positive due in large part to the number of major and midsize corporations moving to our area. In just 2020 alone 11 corporations announced plans to either move their operations to our area or to make major expansion. This virtually ensures a steady growth in jobs, and therefore home demand for the near future.
Housing Supply
According to the National Association of Realtors (NAR), the current number of single-family homes for sale is 1,080,000. At the same time last year, that number stood at 1,450,000. We are entering 2021 with approximately 370,000 fewer homes for sale than there were one year ago.
However, there is some speculation that the inventory crush will ease somewhat as we move through the new year for two reasons:
1. As the health crisis eases, more homeowners will be comfortable putting their houses on the market.
2. Many house holds have been impacted financially by the pandemic and some will be forced to sell to avoid foreclosure. Refer to our blog titled "Will 2020 Forbearances Lead To A Flood Of Foreclosures In2021?".
Housing Demand
The mortgage rates falling to near 30-year lows have had a major impact on buyer demand over the last twelve months. According to Freddie Mac, rates stood at 3.72% at the beginning of 2020 and at the beginning of 2021 we are seeing rates one full percentage point lower than that. Low rates create a great opportunity for homebuyers. A recent announced by the Federal Reserve stated that they would be holding interest rates to their present level until the economy improves. This action by the Fed has a corresponding direct effect on the Mortgage Backed Securities (MBS) market and is further support for the expectation that demand will remain high throughout the new year.
Housing Appreciation
These projections on housing supply and demand are driving real estate analysts forecasts of continued appreciation
through 2021 and that the appreciation may be at a steadier pace than last year. Here are the current forecasts from Keeping Current Matters are encouraging news for both home sellers and buyers.
Bottom Line
Though the inventory of homes for sale continues to shrink there are homes coming on he market and some really great homes and good buys still out there. Correspondingly, the number of purchasers looking to buy is also increasing sothe "law of supply and demand" dictates that home values will continue to appreciate benefiting both the sellers and the buyers. For everyone looking to sell or buy, 2021 is setting up to be a great year.
Contact Geni at 469-556-1185 or RealEstate@GeniManning.com for a No Obligation phone consultation!

Geni is a native Texan and has spent her life in the Dallas/Fort Worth Metroplex as a professional real estate agent. Her reputation is impeccable, and she has personal contacts across literally thousands of brokers and agents in throughout the area. Geni and her Team know how to SELL, what works and what does not! She has a proven track record of selling homes faster and for a higher price than most agents, even in the very difficult markets! With Geni and her Team on your side you can be assured of the most professional and successful marketing strategy. Geni's credentials, 100s of Five Star Reviews, knowledge, and decades of experience have earned her the title of Master of Real Estate.